Arendal, Norway
First Officer Program
The First Officer Program will take you from little or no flying experience to having all the licenses and ratings you need to work as a First Officer for European airlines in 20 months.
Course information
Start dates
28 March 2022
26 September 2022
The final day to apply is one month before the course start date. We recommend sending in your application as soon as possible to secure your spot for the course start you want to attend. You can find more information regarding cost, pre-entry requirements, and training content by downloading our brochure.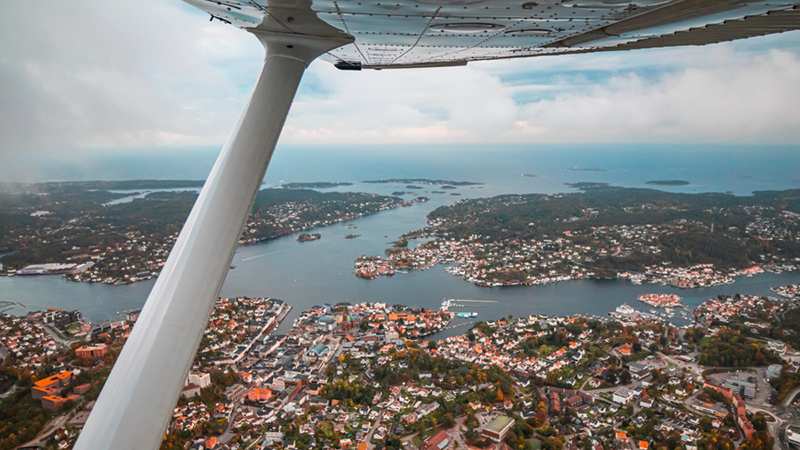 Training location | Arendal, Norway
Course description
The First Officer Program will take you from little or no flying experience to having all the licenses and ratings you need to work as a First Officer for European airlines in 20 months.
The First Officer Program (FOP) is a comprehensive integrated flight training program where theory- and flight lessons are mixed, giving you an exciting balance between academic studies and hands-on flight experience.
When you graduate from the First Officer Program you will have the following certificates and ratings:
EASA CPL(A) | Commercial Pilot License, Airplane with:

Instrument Rating (IR)
Multi-Engine Piston (MEP) Rating

EASA ATPL(A) Theory| Airline Transport Pilot License Theoretical examinations
EASA APS MCC | Airline Pilot Standard (APS) Multi-Crew Cooperation (MCC) Course
Flight training
In the first stages of flight training, you will be conducting all of your flights in Visual Meteorological Conditions (VMC), flying by the use of outside reference and a map. In the early stages, the main focus will be on mastering the four fundamentals of flying (climbs, descents, turns, and flying straight-and-level). As you progress you will start learning how to land the aircraft and become proficient enough to do your first solo flight.

The following stages will further increase your skills in navigation and more complex maneuvers. You begin to fly further away from your home base and become increasingly confident in handling the aircraft.

In the second semester of your training, you will start practicing what is known as instrument flying. This means that you will fly in and above the clouds, or with a view-limiting device that only allows you to see the inside of your cockpit. The goal of this stage is to enable you to fly the same way airliners operate, following "roads in the skies", pre-defined routes used for flying under Instrument Flight Rules (IFR).

Towards the final stages of your flight training, you will upgrade to a twin-engine complex aircraft. As soon as you master the basics in this aircraft much of the training focuses on handling different abnormal procedures and emergencies. You will be trained in flying with only one of the two engines operating and become even more proficient with problem-solving in demanding situations.

At the very end of your initial training, it is time for the Airline Pilot Standard (APS) | Multi-Crew Cooperation course. In this stage, you will work side-by-side with one of your classmates. Working as a team and solving complex training scenarios is one of the favorite parts of the training for many students.
Academic studies
At OSM Aviation Academy we utilize the Oxford ATPL(A) books for the theoretical part of the education, along with our own Distance Learning System (DLS). During the program, you will study 14 subjects divided into three semesters. In addition, you will learn about the core competencies of a professional pilot through instructor-led briefings, own responsibilities, and flight training.

The subjects you will study during your training program are divided into three phases.
Phase 1
Meteorology (MET)
Principles of Flight (POF)
Communications (COM) - IFR and VFR
Human Performance and limitations (HPL)
Phase 2
Radio Navigation (RNAV)
General Navigation (GNAV)
Air Law (ALW)
Airframes, Powerplants, and Systems (ASP)
Phase 3
Instrumentation (INS)
Flight Planning and Monitoring (FPM)
Operational Procedures (OPP)
Mass and Balance (M&B)
Performance (PER)
Pre-entry requirements
Before you can apply
18 years of age
Completed High / Upper Secondary School
Passing grades in:

Mathematics
English
Physics*

Pass a Pilot Aptitude Test (read more)
Before course start
In order to exercise the privileges of a pilot, you need an EASA Class 1 medical certificate. You can read more about the examination and how you book one in our FAQ.

Before you start the First Officer Program it is mandatory for all students to take our pre-study course in Mathematics and Physics. The courses are created for you to make sure that you are all warmed up for the studies and to give you the best conditions for a flying start at OSM Aviation Academy.
Pricing and payment
Cost of education
The First Officer Program costs 950 000 NOK and the payments are divided into four installments at the start of each semester. An application fee of 20 000 NOK will be invoiced together with your acceptance letter and contract which must be paid in order to secure your spot.
Application fee - 20 000 NOK
First semester - 232 500 NOK
Second semester - 232 500 NOK
Third semester - 232 500 NOK
Fourth semester - 232 500 NOK
Additional cost
Pilot Aptitude Test - Part 1 (read more)
Pilot Aptitude Test - Part 2*
EASA Class 1 medical examination (read more)
EASA Class 1 medical renewal (after 12 months)
CAA exam and certificate fees
Type rating**
*If you pass part 2 of the Pilot Aptitude Tests, apply for one of OSM Aviation Academy's integrated programs and your application is successful, part 2 of the Pilot Aptitude Test will be refunded through a reduced application fee.
**Some airlines expect the pilots to pay for their type rating, while other airlines pay for the type rating and sign a bond with the employee. These two main solutions are dictated by supply and demand, meaning that when there is a higher need for pilots, more airlines are likely to offer a bond.
Need some guidance?
Book a meeting with us to explore the next steps of your journey and find the answers you need.