FAA Part 141
Integrated Program
Our Federal Aviation Administration (FAA) part 141 integrated program will take you from 'zero to hero' at our training location at Fort Lauderdale Executive Airport (KFXE). When you graduate from this program you will hold an FAA Commercial Pilot License (CPL) for airplanes.
Course information
Start dates
4 July 2022
1 August 2022
5 September 2022
The last day to apply is one month prior to the start date. We recommend you send in your application as soon as possible to reserve a seat at the course. Contact us if you would prefer a start date that is not listed on this page.
For more information regarding the prerequisites, the training course, and duration, download our catalog for free.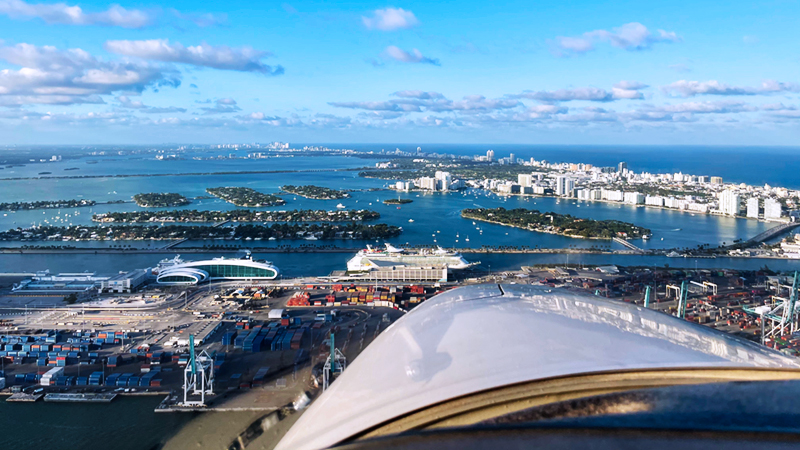 Training location | Fort Lauderdale, FL, USA
Course description
The FAA Part 141 Integrated Program is a comprehensive integrated flight training program where theory- and flight lessons are mixed, giving you an exciting balance between academic studies and practical flight training.
Flight training
During this integrated course in accordance with FAA Part 141, you will be given the training corresponding to the PPL-, IR-, CPL, and ME certificate. This will give you all the licenses necessary to start working as a first officer within commercial aviation.*
*Some airlines require a minimum number of flight hours before you qualify.
The first stage of the training will focus on the basic flying skills to fulfill the requirements for a PPL-certificate. This type of training will be conducted in Visual Meteorological Conditions (VMC), flying the aircraft on visual references outside the aircraft with help from a map. In the beginning, the main focus will be on the fundamentals of flying; climb, descents turns, and straight and level flight.
After the first stages of learning the cornerstones of flying, you will move on and start flying more complex maneuvers. This part also includes solo flights away from home base to practice navigation by visual references with help from the map. When this stage is completed, you will move on to the instrument training of the program.
In the instrument training phase, you will learn how to fly by solely checking your instruments instead of visual references. During this phase, whenever possible, the training will take place within clouds to give you full instrument flight rules (IFR) experience. Regular airline traffic operates in accordance with the IFR-rules, so this part is to teach you how to follow "the roads in the sky" and prepare you for your career within commercial aviation.
When the previous phases are completed, you will start the Multi-Engine training. This training will be conducted in a full-motion Redbird MX-2 simulator and in our DA42 G1000 for real flight experience. In this phase, you will learn how to handle a twin-engine aircraft in different attitudes and abnormal situations. For instance, how to handle a twin-engine aircraft with only one engine operating and become even more proficient with problem-solving ad demanding situations.
After graduation from this FAA Part 141 program, you will have all the licenses necessary to apply for flight deck positions. Some airlines require a minimum amount of flight hours before you are able to apply. You can either rent an aircraft to build more hours or apply to business jet pilot positions to get more experience. Another possibility is to add a flight instructor rating on your certificate (not included in this program) to be able to gain more hours and experience.
Academic studies
All essential training material will be covered in each Cessna course. We will also work with FAA handbooks and manuals, which are found on the FAA official webpage.
We will provide you with excellent ground and flight instruction during your whole training period with us.
Pre-entry requirements
Before you can apply
Valid Passport
Student Application Form
TSA Approved (non-US citizens)
Authorization from parents if you are under 18 years old
Passing grades in:

Maths
English
Physics
Pass our Pilot Aptitude Test (read more)
The last day to apply is 1 month prior to the course start date.
Before you can start
Before you can start your flight training, you will need to have an approved FAA First Class Medical Certificate and a TSA-approved confirmation email (if you are a non-US citizen).
Training duration
The FAA Part 141 Integrated Program requires full attendance for 12 months.
Pricing and payment
The FAA Part 141 Integrated Program costs 49,999USD**.
**Prices are based on the minimum hours required to complete the required training. It is not guaranteed you will complete your training in the number of hours or time frame stated. In some cases, additional training may be required for you to complete. Should you exit any flight/ground hours or require additional accommodations, you will be responsible for additional costs.
Initial payment of 30% of the total program must be made before the initial course starting date on the student's application form. After the initial payment, the student is agreed to continue the payments via bank transfer or credit/debit card in person.
Additional expenses
FAA Approved First Class Medical Certificate
PPL Cessna Pilot Course (online)
IR Cessna Pilot Course (online)
CPL Cessna Pilot Course (online)
PPL Checkride
IR Checkride
CPL Checkride
PPL Aeronautical Knowledge Test
IR Aeronautical Knowledge Test
CPL Aeronautical Knowledge Test
Type Rating***
TSA (Initial, Instrument, and Multi), if required
TSA Fingerprints, if required
M1 Visa application fee, if required
All of the above additional costs will add approximately 4,500 USD to the price, and pay each of the additional costs when completing each of them, not in advance.
*** Some airlines expect pilots to pay for their own type-rating, while other airlines pay for the type-rating and sign a bond with the employee. These two solutions are based on supply and demand, meaning that when there is a high need for pilots, more airlines are likely to offer a bond.