EASA Modular
ATPL(A) Theory
The ATPL course will provide you with the theory education needed to work as a commercial pilot in Europe. After the completed course you will have the opportunity to continue your pilot education with CPL/ME/IR and MCC/APS MCC courses.
Course information
Start dates
The last day to apply is one month before the course start date. We recommend sending in your application as soon as possible to secure a spot for your desired course start. On this page, you will find information about what you need to do before you can apply, what you can expect from the education, and the cost of training.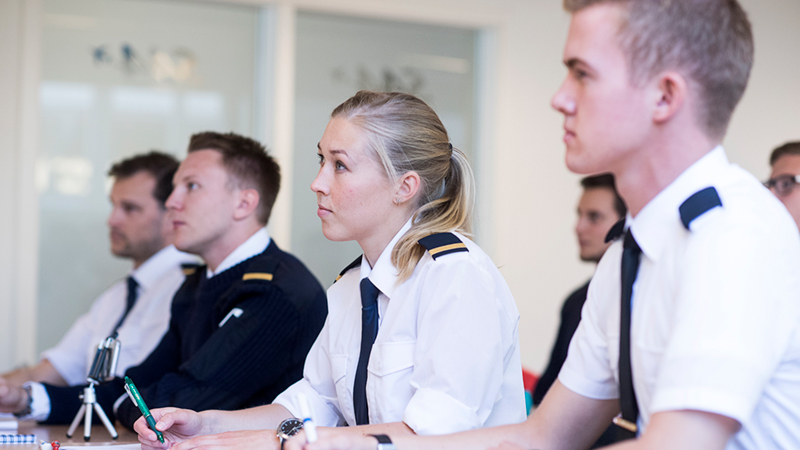 Training locations | Västerås, Sweden or Arendal, Norway
Course description
The ATPL theory is a fulltime classroom theory course. The course is planned to take 12 months, based on 75% study time.
Academic studies
The classroom-based studies are approximately 123 hours. Additional to this you will have approximately 623 self-study hours and 562 hours in the DLS. The students will have access to instructors through the DLS during the course, where material and instructions also will be available.
The studies are made up of three different phases. Each phase commences with an instruction week, followed by home studies through the DLS, a refresh week in the classroom, and a final test.
Schedule of the phases:
Classroom tuition (14 weeks)
School tests (1 week)
Home studies: Test preparations (1 week)
CAA exams (1 week)
Introduction and refresher week includes classroom tuition for 2-4 days, sometimes even on Saturdays and Sundays. Test weeks consist of 2 test days in general.
One test is included in the course tuition fee, as well as one re-test if necessary. A detailed schedule is distributed to all students in the course through the DLS.
*Computer Based Training
Pre-entry requirements
Before you can apply
Valid ICAO PPL (A)
Graduated from High School / Upper Secondary School with passing grades in the following subjects:

Mathematics B / Mathematics 2b
English B / English 6*
Physics A / Physics 1a**
*If you are lacking the English requirement from High School you can do a TOEFL test. You need a score of 85 to meet the requirement.
**If you are lacking the physics course from High School you can do a 2-week full-time physics distance course at OSMAA.
Price and payment plan
The course is divided into four installments:
Registration fee: 10 000 SEK/NOK
Course start: 23 000 SEK/NOK
Course start + 3 months: 23 000 SEK/NOK
Course start + 6 months: 23 000 SEK/NOK
Course price: 79 000 SEK/NOK excl. VAT.
This course is approved by CSN for Swedish citizens.
Additional costs
The literature that is needed for completing the ATPL course are:
CAE eBook EASA Edition 2020 (£630). At the moment it is only possible for educators to order this package and the student will be invoiced by the school.
Litterature package ATPL(A) from KSAB Pilotshop (2025 SEK) including:

Jeppesen General Student Pilot Route Manual set
CAP 696
CAP 697
CAP 698
PPL-transportör
Jeppesen ST-CSG Navskiva
You can order the literature package from KSAB Pilotshop here.